The Wall Paint Last Week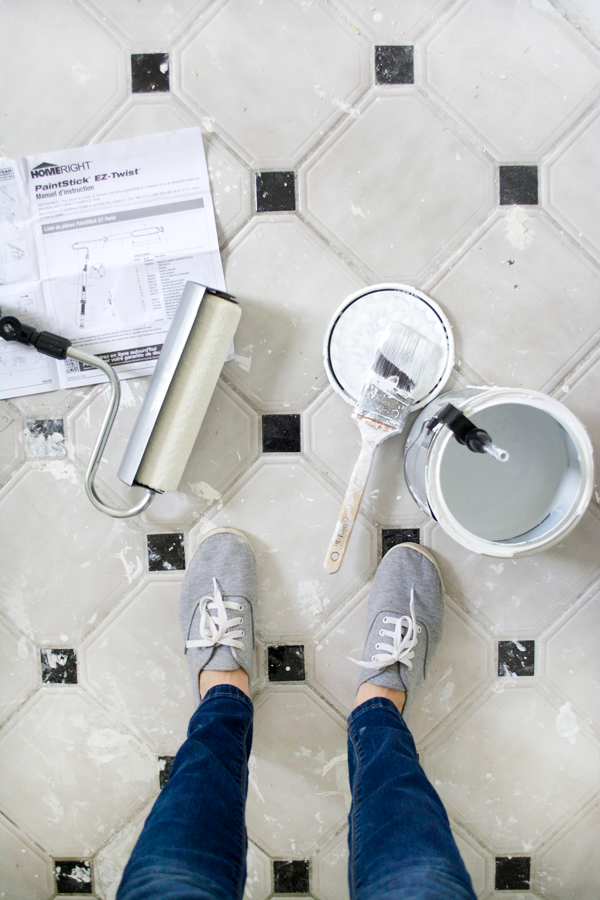 It'due south week two of the One Room Challenge and we're cruising right along! This past week has been filled with lots of spackling and lots of painting. If you lot're just tuning in, nosotros're tackling our laundry room and you can check out my plans for the space in last week's mail service
here! Along with sharing our updates this week, I'll be sharing a tip on
The Fastest and Easiest Way to Pigment Walls
and I'm telling y'all it's a total game changer 😉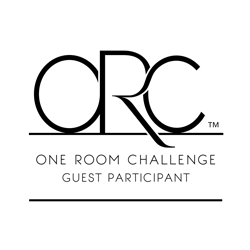 *this postal service is sponsored by
HomeRight
just all thoughts and opinions are my own.

To start, we (Dan) ripped down the existing tile on the walls. The tile went around the whole room but luckily wasn't up to the ceiling on any wall, so he but removed the function he needed to.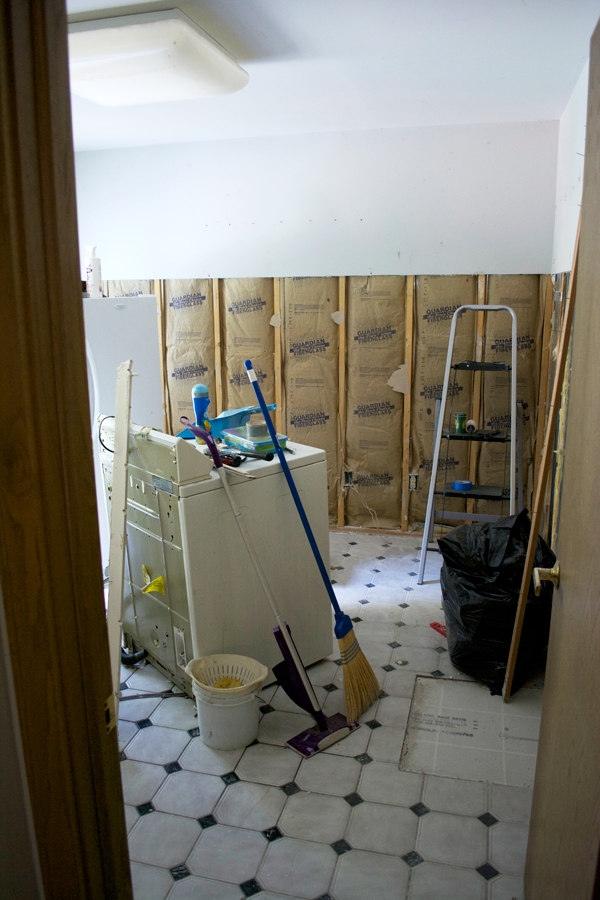 This piffling guy worked like a charm.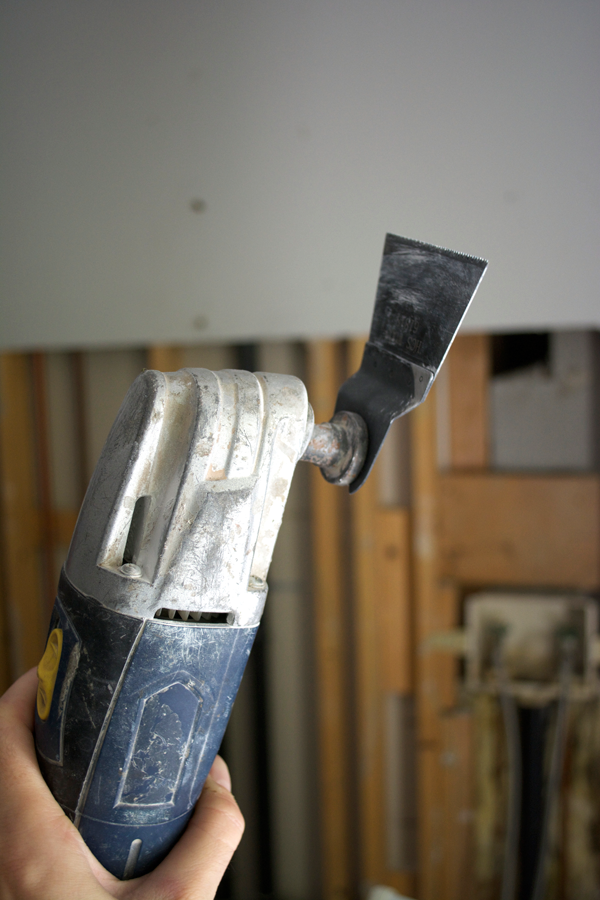 And so he put up the new drywall. I will say it wasn't the most professional job ever, but it was skilful enough and nosotros didn't desire to hire out for it. Once the drywall was screwed in, there was LOTS of mudding and sanding to be done.
This was my commencement time ever working with drywall and I am not a fan. It's a real pain in the buns. The fact that the seams weren't totally perfect probably didn't assist but I felt like I was stuck in a circle of mudding and so sanding, and so mudding then sanding and I notwithstanding couldn't get information technology smooth! The majority of the walls are going to exist covered with
something
so I wasn't worried almost making it absolutely perfect and I only had to do ii full walls and one partial wall since above the wall where the washer and dryer are going is gonna be all tile.
I'yard and so glad that part is over though! In that location was grit

everywhere

for like iii straight days.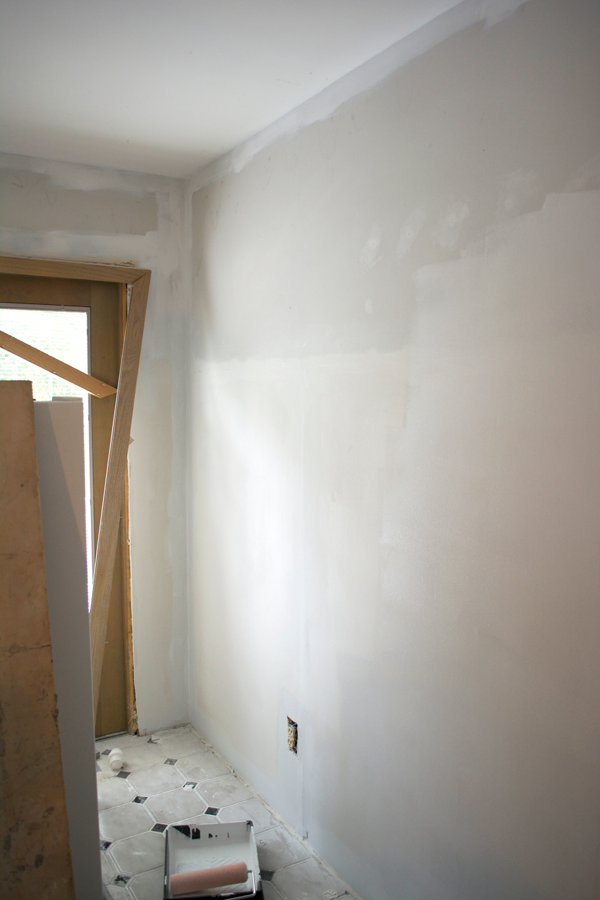 So then came the fun part. Painting! Or maybe y'all hate painting. But information technology was much more enjoyable than the drywall and I got to effort out a new toy that is seriously amazing. 1 of my awesome sponsors,
HomeRight, sent me their EZ-Twist PaintStick and I'm in love. Painting walls tin can get and then messy and be so time consuming but this petty gadget makes it then much faster, cleaner and easier.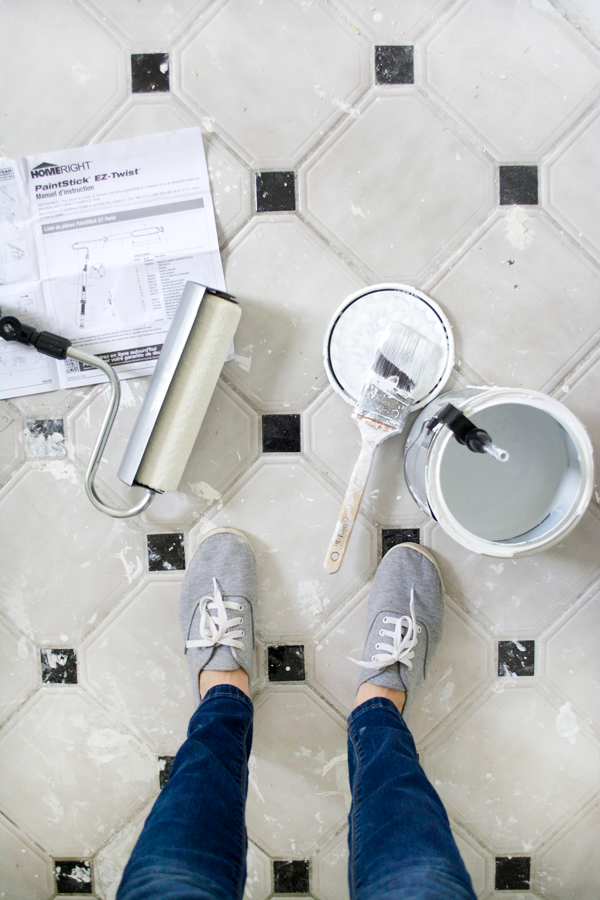 Say goodbye to the mess and frustration of pouring paint into your pan and getting information technology all.over.the.tin and having it spray all over the floor when yous curlicue your roller in it. This new and improved roller comes super easy to put together and creates NO mess.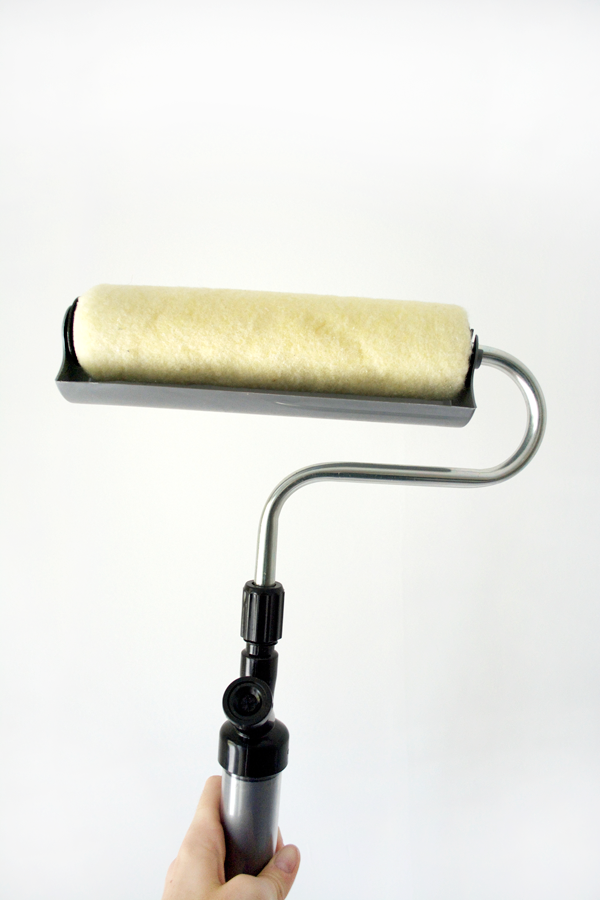 In one case yous have it all connected, you prune the spout onto the paint can and then insert the roller into the opening.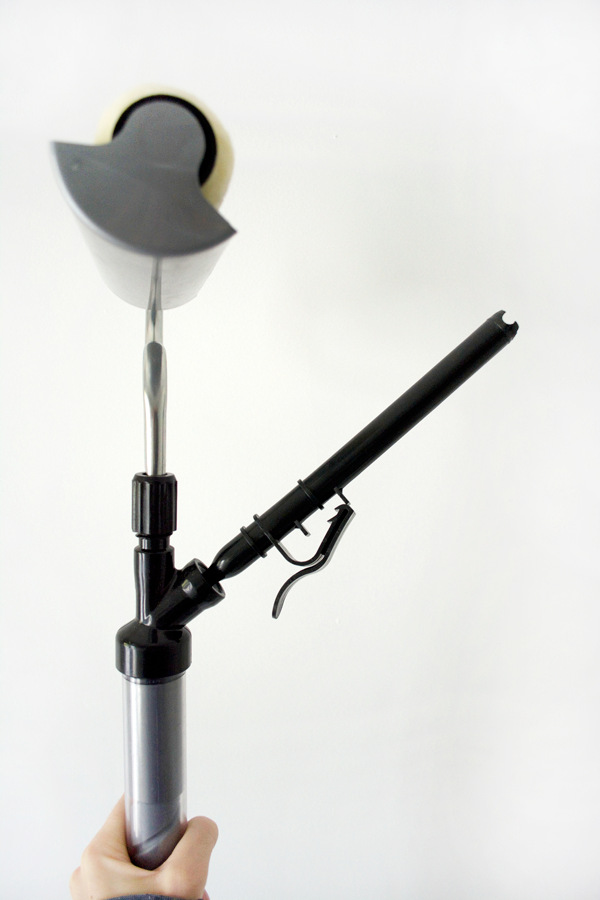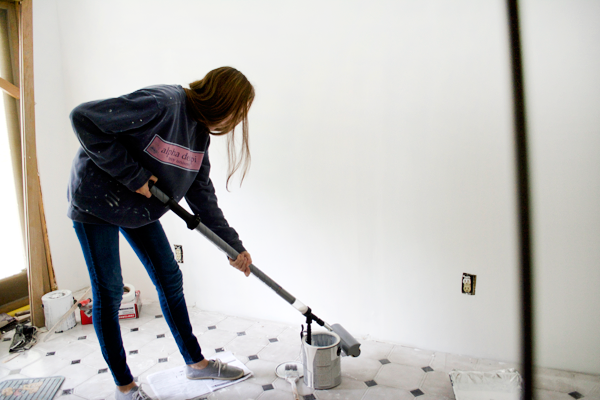 There'due south a tube that fills with paint every bit yous pull back on the handle. The outset time you employ it, it takes a full tube to fully coat the roller in the paint, and and then from there it creates even coverage.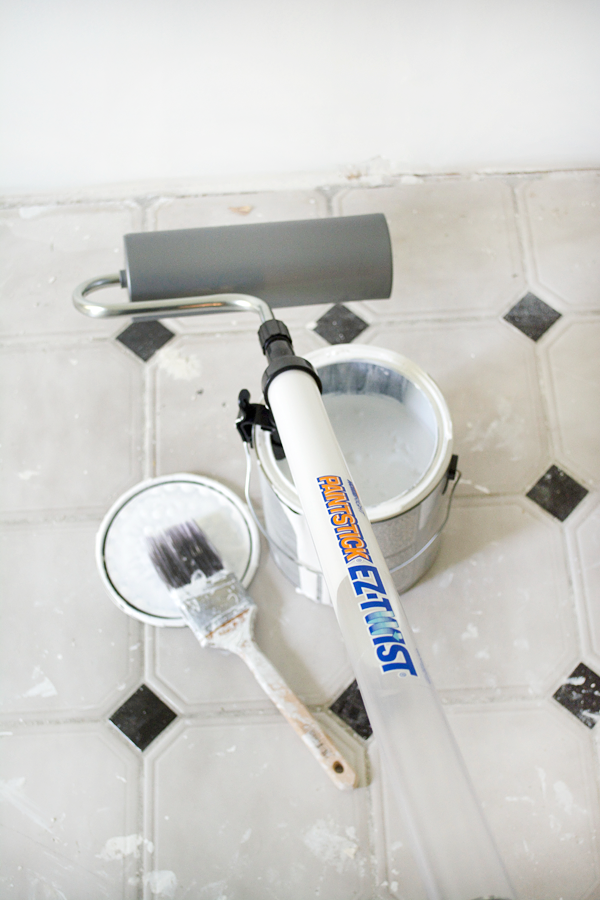 And then basically yous suck the paint into the tube then y'all twist the
PaintStick
back down and information technology pushes the paint into the roller through little holes. Then yous just keep twisting as needed and pushing all the paint down. So when you run out, yous just connect it back onto the spout and suck up more than pigment! Genius, correct??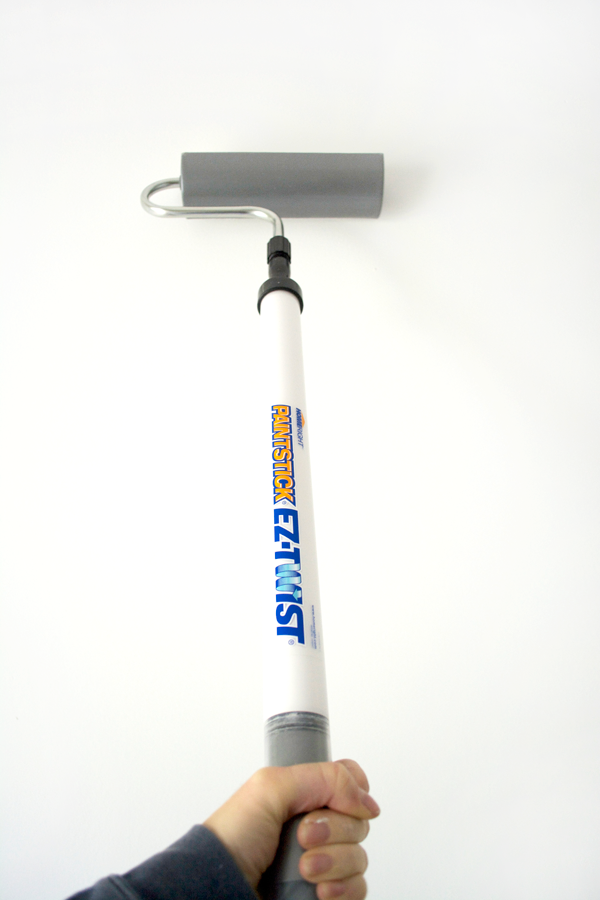 I couldn't believe how neat the coverage was and how clean information technology was. Ya know how if y'all glop likewise much paint on your roller information technology can fly all over the place? Totally doesn't happen with this. Information technology releases the perfect corporeality of paint and goes on and then smoothly!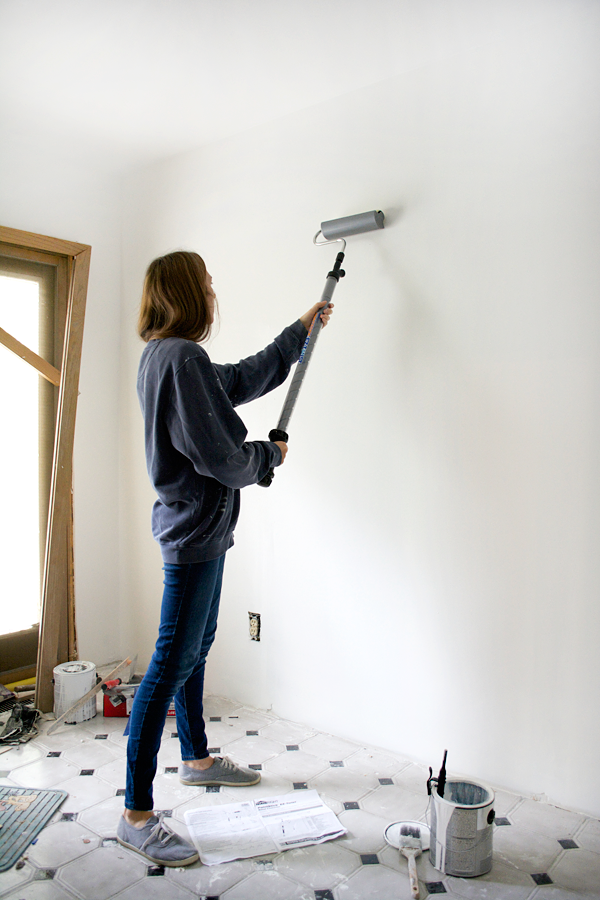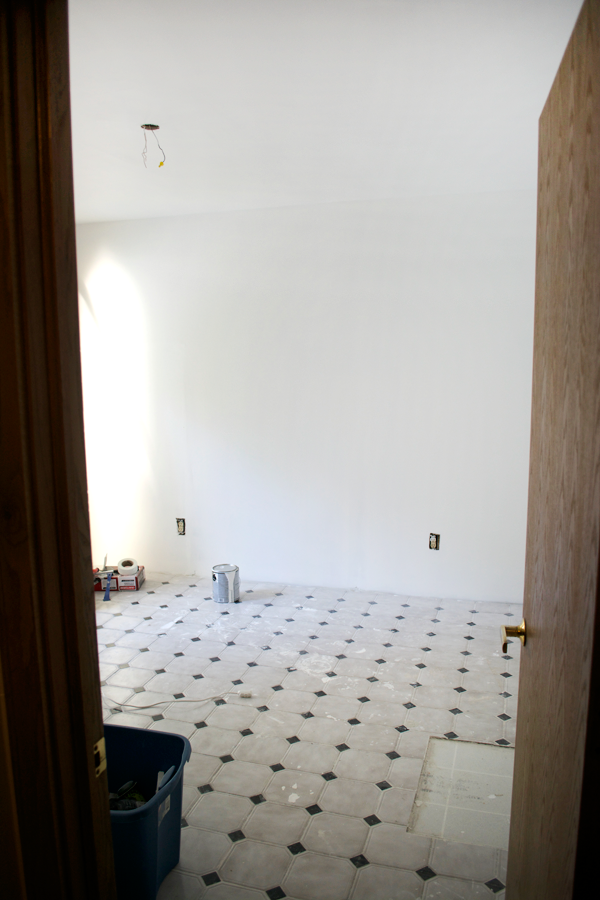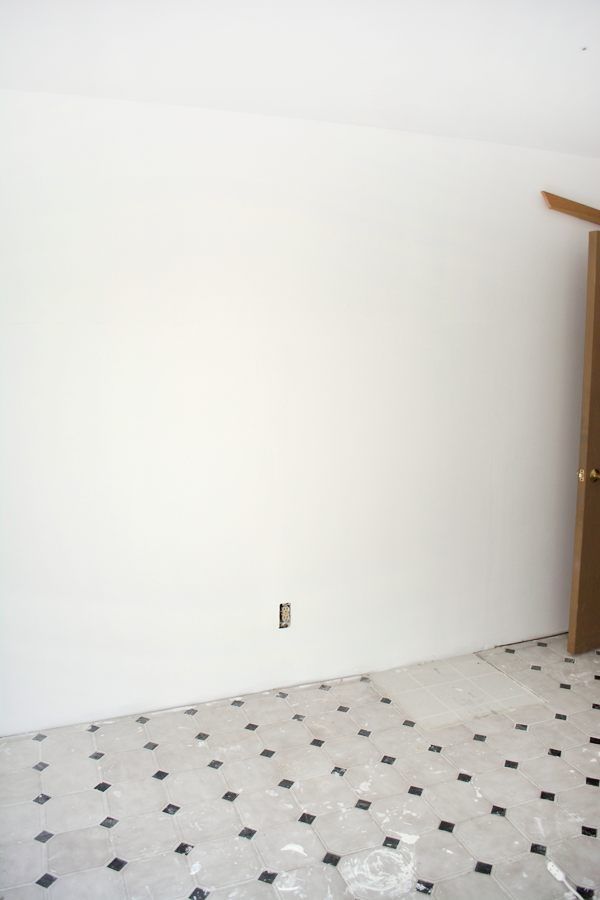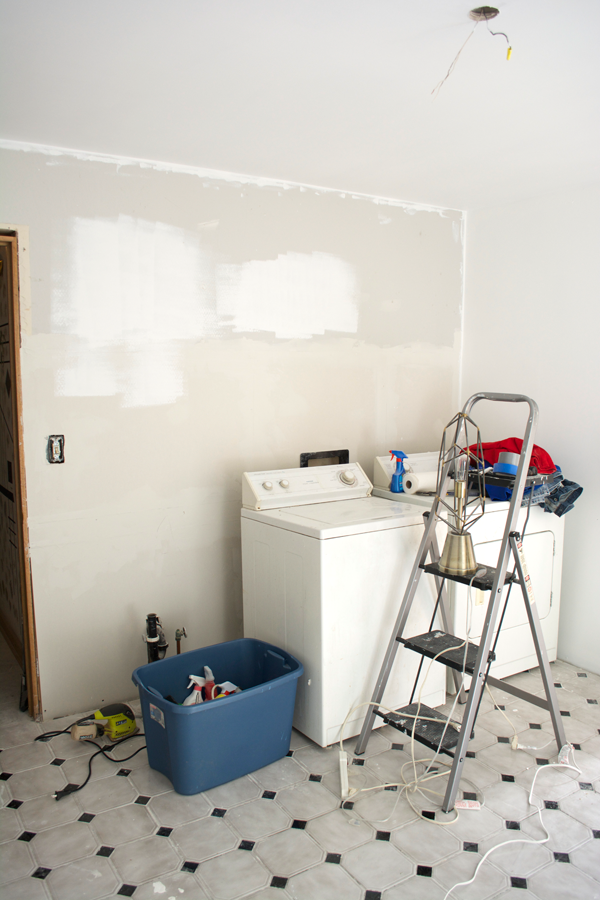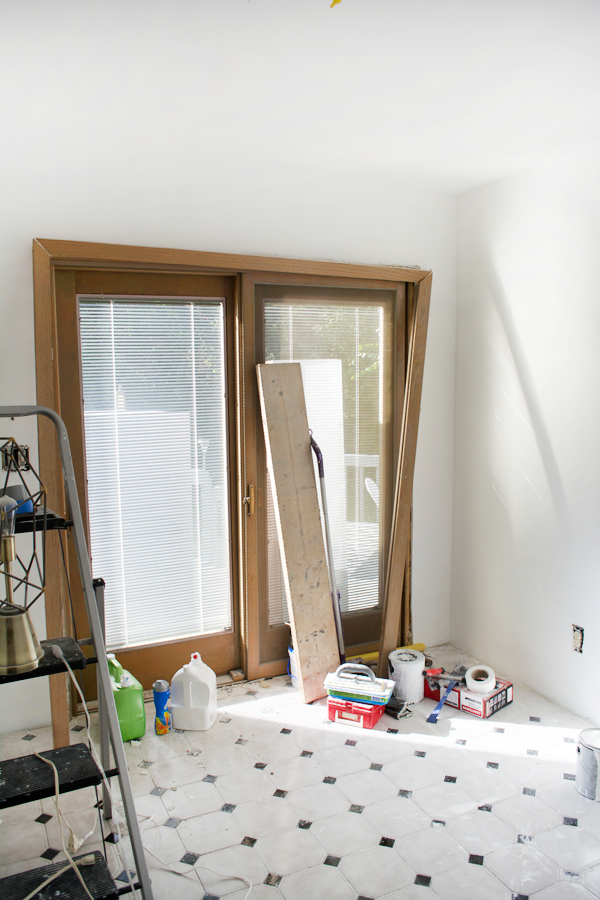 This guy made painting the ceiling sooo much easier too. I'g pretty much never painting a wall once more without information technology. 🙂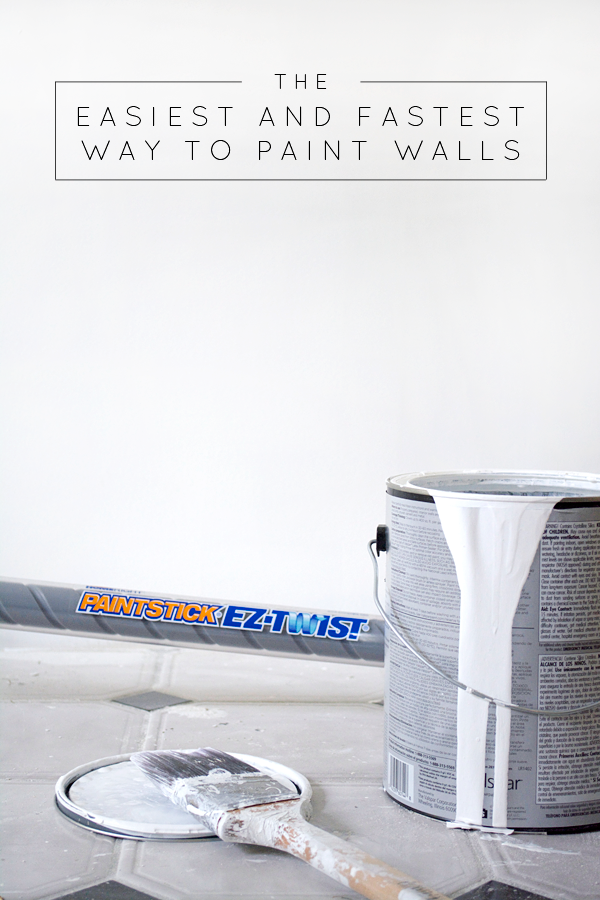 So let's have a look at our to-practise list and see what we've accomplished!
Tear downwardly existing wall tile
Install new Drywall
Tape and patch drywall and other holes in the walls
Paint walls
Remove old light
and install new 1
Tile wall that washer and dryer are on
Tile over existing floor tile with new tile
Reattach base of operations boards and trim
Paint sink vanity
Install sink into vanity
Install new washer and dryer
Stain door slab countertop
Install countertop
Hang wooden shelf and style information technology
Paint alpine cabinets
Install a DIY bench between cabinets
DIY wood treatment above demote
DIY system for hanging clothes
DECORATE!
Adjacent upward my FIL is going to do the tile piece of work (he does information technology for a living so we lucked out big fourth dimension in that location). I wanted to find something to repurpose for the sink base but we ended up deciding to go a custom cabinet built since nosotros have an apron front sink and the installation could be a trivial tricky. I'm finalizing plans with the builder this week and it should be done within a week or two tops. Only I'm still painting it myself 🙂
A huge thanks to HomeRight for sponsoring this post and for my other astonishing sponsors who are making this all happen! Blanco, Lamps.com, Crates & Pallet.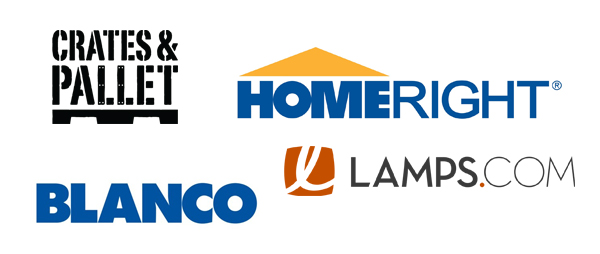 The Wall Paint Last Week
Source: https://www.brepurposed.com/2016/10/12/one-room-challenge-week-2-fastest-easiest-way-paint-walls/